To help you navigate the healthy and helpful books, kitchen and garden tools, services, and ingredients, I've put together these recommendations, based on my own experience. I hope they come in handy and support your healthy, super-fresh, madly tasty cooking and eating experience!
Full disclosure: I am passing on these recommendations using affiliate programs at times, which means they will give me a little kickback if you purchase through this link. But if you can find these items more cheaply, borrow from a friend, peruse via the library, please DO!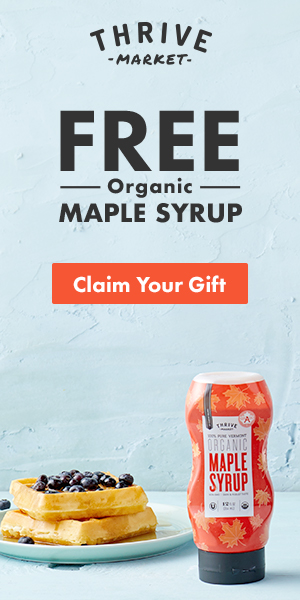 You know I like to use maple syrup instead of white sugar wherever I can for example in these cranberry-walnut cookies, so a freebie (with a Thrive membership) sounds good to me.
Thrive may or may not be for you, but healthy foods can be expensive, and sometimes you just don't feel like driving to that upscale grocery store either, so home delivery of nice quality groceries can be handy. See what you think! I'm trying Thrive myself and find lots of my staple brands and products there. But also, when shopping i may forget something, while at home i can just add to the shopping cart as i think of things – almond flour, baking soda, rice, you know, go-to pantry items. I may even remember to replace my supplements before they run out.
< Rebecca Katz's wonderful cookbook, The Cancer-Fighting Kitchen, was one I got for my parents about 25 years ago, when Dad was first diagnosed. I still think she has the right ideas!
My favorite seed catalogs:
<Johnny's: Best information on growing, plenty of great tools and supplies. Keep the catalog around as a reference for planting.
Baker Creek: The Victoria's Secret of seed catalogs: They search everywhere for unique and specialized seeds, then carefully grow them for more seeds to sell. Gorgeous and unusual plants.>
I saw this at Eataly, that big Italian market in New York City,
and mentally put it on my wish list, just because it is gorgeous, and luscious to explore. The pictures seem like a pretty good appetite stimulant. >
< T
hese hand juicers keep the seeds out of your juice (and out of your eye) and are easy to wash
. Normally I would recommend a stainless steel tool, but this enameled aluminum tool has enough weight and solidity to make squeezing a breeze.
I love Wendell Berry – poet, philosopher, farmer, delightful writer. Inspiration. Short narrative essays are his strong suit and these invite us to reconnect to nearly lost ways of considering our food and our food system. >
< Tongs are great for tossing    and flipping items as you sauté your veggies. Sometimes flipping with a spatula is inadequate, and tongs would work great – but in a non-stick pan, you'll need a coated tip to avoid scratching the coating. (Don't forget – teflon gives off toxic fumes, so look for the ceramic, non-toxic types.)
Real, local, seasonal recipes from right here in Placer County. Not all vegetarian, but it's helpful to know when things are in season and get ideas on what to do with what we have right now. >
< With the caveat that nobody should ever feel that they have failed at having willpower and a positive attitude sufficient to defeat cancer, I think this book is excellent for delving into the mind-body connection. When I recommend joy and un-fussy but wonderful food, it is in part based on this book that helped me understand the healing power that relaxing/enjoying and also doing for yourself can have on your wellness.
The hand-held stick blender is super-handy and easy to clean. I love to use mine to make creamy soups among other things.
>
< Or this type of easy-to-clean whizzer is  great for making dips, salsa, pesto, and cashew milk (to replace dairy), and of course smoothies!
Growing more mushrooms may be the best thing we can do to save the environment, and in this groundbreaking text from mushroom expert Paul Stamets, you'll find out how. Also, many of them have remarkable health benefits, not to mention the culinary treats we know and love!>
< For those who are trying to reduce white flour and other simple carbs in their diet, almond flour is surprisingly handy for things like pie crusts and cookies… try these Cranberry Walnut cookies with no white sugar and no white flour! Most stores carry 1 lb bags which get pricey, so this bulk bag is a nice savings for bakers! Thrive has a 3lb bag, which makes it more affordable.
I've given up dairy, and many folks are avoiding gluten for a variety of reasons, so getting a nice piece of cake is a challenge. I recently tried Pamela's Chocolate Cake mix and added my own touch – some organic coconut and semi-sweet chocolate chips. It came out rich, dark, and almost brownie-like in texture. Didn't need frosting and still got excellent reviews from all who tried it. And it's no more complicated than any regular cake mix. Easy-peasy. >
Electric & gas stovetop safe, dishwasher & microwave safe, oven safe (preheated oven) & broiler safe, it does not absorb food odors, flavors or stains, and has a 10 Year Limited Warranty on the ceramic bakeware (glass lids 2 years).

< I highly recommend a good Santoku knife, and it doesn't have to be incredibly expensive. The thing to look for is the term "full tang", meaning that the metal blade extends into the handle to the end and is firmly fastened with rivets. In addition, look for good quality steel that will hold an edge for years to come. The last
thing to consider is whether the balance and shape of the handle feel good to YOU. This should be your main chopping and slicing tool. A good paring knife and a good serrated edge knife are also handy and should follow similar criteria.
If you'd like to make your own low-sugar jam — as opposed to the usual recipes that call for 4 cups of
berries and 6 cups of that processed, white sugar — try using Pomona Pectin. Just follow the directions included in the packet and either freeze or can, as you like. Berries are the easiest thing to turn into jam, with no pitting, coring, peeling, or straining needed. And they don't need much sweetening if any. I don't mind a little effort for cherry plums, but berries are so easy!  Go ahead and try!